At a Glance
Description
Looking for a little professional development? Miss your college classes? Try Yale's.
Website
Open Yale Courses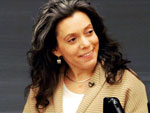 Yale University has made a sampling of their courses available for listeners, viewers, and readers.
As of writing, the history subsection contains six courses—two of which relate directly to U.S. history ("The American Revolution" and "The Civil War and Reconstruction Era, 1845-1877") and one which touches on relevant issues, "Epidemics and Western Society Since 1600." Each of these courses offers links to individual pages for each lecture. Lecture pages contain short text overviews of the topic at hand; a list of any reading which was required for the day; and links to lecture audio, video, and transcriptions.
Our site links you directly to the Yale's history courses. However, consider exploring other topics as well. Maybe a lecture on Roman architecture will give you background for discussing monuments in Washington, DC, or an economics course will give you a new way of thinking about the American Revolution. Interdisciplinary possibilities are endless.