At a Glance
Description
View streaming videos on American folk culture from fox hunting to Zydeco.
Website
Folkstreams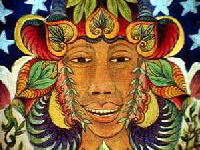 The declared mission of this film archive "is to build a national preserve of documentary films about American folk or roots culture." The archive contains more than 50 independent films and videos "depicting American folk, traditional, regional, and vernacular culture." Films include Dry Wood, a "glimpse into the life, food, and Mardi Gras celebrations of black Creoles in French Louisiana, featuring the stories and music of 'Bois Sec' Ardoin and Canray Fontenot" and New England Fiddles, presenting seven "traditional musicians as they play in their homes and at dances and contests, passing their styles to younger fiddlers, and commenting on their music."
All films are available in streaming video and can viewed with Quicktime or Realplayer. The site also provides background material on each film, explaining the subject and aesthetic importance. Transcripts are available for some films. Visitors can browse the collection by title, filmmaker, subject, region, or people. They can also search for films or search the available transcripts of films as well as essays about the films. This site should be of interest to those studying the history of American folk culture or the history of documentary film.