At a Glance
Description
View works from artists financed by the United States Government during the Great Depression.
Website
Producer
National Archives and Records Administration
A New Deal for the Arts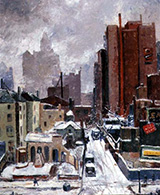 This exhibit, divided into five sections, presents artifacts from New Deal art programs, introduced by a 250-word essay. "Rediscovering America" discusses "artistic nationalism" and provides five photographs and five paintings of American scenes. "Celebrating the People" exhibits five paintings and one photo of people at work and two photos and three programs of celebrations of folk culture. In "Work Pays America," five posters, two paintings, and two photos document and celebrate New Deal programs.
The 11 works exhibited in "Activist Arts" make more and less subtle political arguments, including Dorothea Lange's "Children in a Democracy" and a flier for a Workers' Alliance meeting. A section on "Useful Arts" exhibits 15 pieces, including informational posters, photos of quilting lessons, and a WPA handcraft wall hanging. The exhibit is easy to navigate, although visitors must return to the home page between each section. Useful for those studying the politics, social messages, and images of the New Deal.