At a Glance
Description
Frame your lessons on the Great Migration with the life and works of Jacob Lawrence.
Jacob Lawrence: Exploring Stories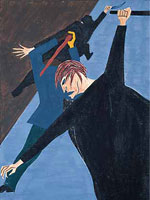 Jacob Lawrence (1917-2000) was an artistic storyteller whose drawings document the African American experience. This site complements an exhibition entitled "Over the Line: The Art and Life of Jacob Lawrence," and offers educational resources on Jacob Lawrence's work. The site includes images of Lawrence's paintings, learning plans, and art activities. It highlights the themes in Jacob Lawrence's work, such as the universal quest for freedom, social justice, and human dignity, as well as his repetitious and rhythmic approach to visual storytelling. This site brings together paintings and drawings of the streets of Harlem, southern African American life, and black heroes and heroines. There is additional information about one of the most characteristic features of Lawrence's work, his storytelling panels. Visitors can view 12 drawings from one of his most acclaimed works "The Migration Series."
The site is rounded out with a selection of unique student activities. Designed for 3rd through 12th grades, 21 lessons are based on 12 themes found in Lawrence's work such as discrimination, migration, labor, and working women. Students and teachers will enjoy this unique and well-organized site.