At a Glance
Description
Get to know the life, mind, works, and criticisms of poet Walt Whitman.
Website
Producer
Ed Folsom and Kenneth M. Price, Editors
Walt Whitman Archive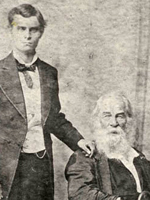 This site presents the work of one of America's most influential poets, bringing together the various editions of Whitman's major work, Leaves of Grass, as well as Whitman's notebooks, poetry manuscripts, prose essays, letters, and journal articles. It also makes available the introductions to each edition of Leaves of Grass, an extended biography of Whitman with links to short essays about Whitman's friends and historical events, and a chronology of Whitman's life from 1819 to 1892. All known contemporary reviews of the poet's work are available as well.
An image gallery contains 129 photos of Whitman from the 1840s through the 1890s. The site's searchable bibliography offers more than 200 books, essays, notes, and reviews about Whitman. Additionally, links are provided to Whitman's recently recovered notebooks from the 1850s and 1860s housed at the Library of Congress. A 36-second wax cylinder recording provides what is thought to be Whitman's voice reading four lines from the poem "America." A guide to Whitman's poetry manuscripts and a finding aid for Whitman manuscripts at individual repositories are also included. A teaching syllabus on Dickinson, Whitman, and American culture is available. An excellent resource for any scholar interested in Walt Whitman or his poetry.