At a Glance
Description
Discover one of America's great realists, and see the Philadelphia of his day.
Website
Producer
Philadelphia Museum of Art
Thomas Eakins: American Realist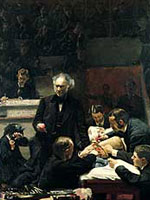 An exhibition of 18 works by one of America's great artists, Thomas Eakins (1844-1916), with annotations of 100-300 words on each image. Eakins, known for applying Paris-learned Beaux-Arts techniques to realistic depictions of his own Philadelphia milieu, often painted persons engrossed in everyday actions: sailboats racing and oarsmen rowing on the Schuykill River; surgeons overseeing students operating on patients; a concert singer performing; a baby playing; and coach horses trotting through Fairmont Park. Although most of the images —which date from 1871-1902—are reproductions of paintings, the exhibit also includes a preparatory drawing, a photograph of the artist's anatomical casts, and two photographic studies, one influenced by the pioneer motion studies of Eadweard Muybridge. As the exhibition text notes, scholars have recently discovered that Eakins used projected photographs to create his works.
Also included are expressive portraits of Eakins' friends and contemporaries, including poet Walt Whitman, who wrote that Eakins was "not a painter, but a force"; controversial anthropologist Frank Hamilton Cushing; and sculptor William Rush engaged in transforming a nude model into a mythic image. Valuable for students of the history of art and for those interested in realistic depictions of late 19th-century life and culture in Philadelphia.