At a Glance
Description
The website provides valuable resources for teachers that illuminate key events in U.S. and Arkansas history.
Producer
Butler Center for Arkansas Studies at the Central Arkansas Library System
The Encyclopedia of Arkansas History and Culture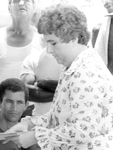 This website functions as an easy-to-maneuver and reader-friendly website for gathering information about Arkansas and its impact on American history. Entries are divided into two categories: text and media. Both include subdivisions based on alphabetical listings or gallery images (respectively) in addition to category, type, time period, race and ethnicity, and gender. The Media section offers numerous photos, maps, documents, and video and audio resources. Entries include suggested readings, related links, and media galleries, when applicable.
Some of the more useful features of the site includes a calendar describing events in Arkansas's history on each day, as well as a photo of the day from the Arkansas gallery. An overview entry provides general information about the state for those beginning to conduct research about Arkansas, and a breadcrumb trail at the top of each page helps readers retrace their steps while visiting the site—a feature users will find very helpful.
Educators will also find more than 100 lesson plans marked by The Butler Center—when planning for topics such as the Civil War, Korean War, and who's who in Arkansas history. Lesson plans are in PDF format.
Teachers and students will enjoy exploring how the Razorback State played a key role in U.S. history. Teachers will also find the lesson plans from the Butler Center a useful resource for classroom instruction.