At a Glance
Description
Ever wondered what a composer's drafts look like? View Foster's sketchbook.
Website
Producer
University of Pittsburgh Digital Library
Stephen Foster's Sketchbook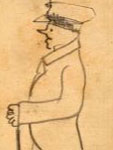 This website makes available the full contents of the sketchbook of 19th-century American composer Stephen Foster. It contains handwritten drafts of 64 Foster songs, including some that were never published. Selecting "Song List" brings up the full list of songs contained in the sketchbook and clicking on the links takes the visitor to the pages with the draft of the song. Clicking on the thumbnail image of the page brings up a transcript, a larger image, and bibliographic data. Drafts of several of Foster's most popular songs appear here including "Old Folks Home" (or "Way Down Under the Swanee River"), "My Old Kentucky Home," and "Jeanie with the Light Brown Hair." The unpublished songs are indicated in brackets. The visitor can browse all 250 page images individually or search by keyword. A useful resource for those researching Foster or the history of 19th-century American music and culture.