At a Glance
Description
Meet Virginians from the 1860s, and learn about their lives.
Producer
Virginia Sesquicentennial of the American Civil War Commission
American Turning Point: The Civil War in Virginia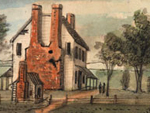 American Turning Point is an online companion to a Virginia Sesquicentennial of the American Civil War Commission exhibit examining the events and impact of the Civil War within the state of Virginia. The travel schedule may permit you to plan a field trip for your class to see the physical exhibit. If not, explore the website (or visit and use the website to reinforce the experience).
Characters gives faces to some of the people who lived through the war in Virginia, while Objects provides access to digital collections and curated items such as weapons, portraits, prints, military orders, and a pocket watch. Virginia Home Front divides the state into federal occupation, no-man's-land, Confederate Virginia, and the Confederate frontier. Each is mapped, and can be selected for additional information including personal accounts from the Civil War period.
Another section, Resources, is similarly worth exploring. The page offers links to lectures, websites, and articles on the Civil War and Civil War collections. The teacher resources largely consist of traveling trunks and outreach programming. Finally, if you're interested in the Confederate capital, consider listening to more than 10 one-minute history audio programs on Richmond.