At a Glance
Description
Early 20th century Washington is captured in this collection of 14,350 photographs by Theodor Horydczak.
Producer
American Memory, Library of Congress
Washington As It Was: Photographs by Theodor Horydczak, 1923-1959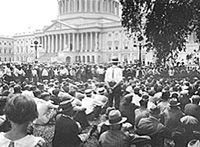 Presents approximately 14,350 photographs by Theodor Horydczak (1890-1971), most of which document the Washington, D.C., metropolitan area between the 1920s and 1950s. Subjects include the architecture and interiors of government, commercial, and residential buildings; views of streets and neighborhoods; images of work and leisure; and events such as the 1932 Bonus March and the 1933 World Series. Also includes a limited number of shots taken in other U.S. locations and in Canada and a background essay, "Discovering Theodor Horydczak's Washington." Provides visual documentation of official and everyday life in the nation's capital and its environs.