At a Glance
Description
Look to the past to consider the prospects of democracy in the U.S.
Democratic Vistas: The William Clyde DeVane Lecture Series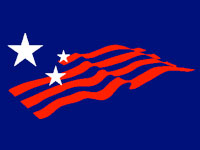 In spring term 2001, Yale University celebrated their tercentennial by assembling 15 distinguished professors representing 11 departments to lecture on and discuss "the conditions and prospects of democracy" in America from myriad perspectives. The complete lectures and discussion sessions are now available on this site in text, audio, and video. The series includes a number of lecturers well-known to students of American history, including Nancy F. Cott, Michael Denning, Richard Brodhead, John Lewis Gaddis, and David Gelernter. Many of the lectures relate American democracy to a variety of historical subjects: the market, the family, religion, foreign policy, education, social movements, computers and other technology, and the biomedical revolution. Other topics include the widening income gap between rich and poor, the relation of Plato's Republic to the American Republic, Lincoln and Whitman as representative Americans, and whether citizenship is now dead. The site, which includes reading lists for each lecture, provides a rich collection of texts that will prove stimulating to students of American political, social, and cultural history.