At a Glance
Description
Explore documents that helped to shape the history of our nation.
Website
Producer
National Archives and Records Administration
Charters of Freedom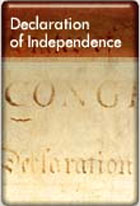 Featuring the Declaration of Independence, the Constitution, and the Bill of Rights, this exhibit presents these three founding documents and several interactive tools for exploring them and their historical context. A transcription of the Declaration of Independence, for example, is accompanied by images of the original document and the 1823 William J. Stone engraving on this site. Three related documents—the Virginia Declaration of Rights and two scholarly articles—(approximately 8,000 words each) provide further context. One article details the history of the Declaration and includes a bibliography of eight titles while the other examines its language and "stylistic artistry."
Examine documents and events related to the making of the charters and then explore the larger impact of these documents from the 18th century to the present.