At a Glance
Description
Go back in time and witness the harsh conditions at Japanese Internment Camps during World War II.
Producer
University of Washington Libraries
The Japanese American Exhibit and Access Project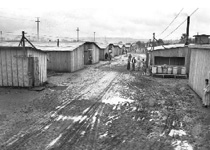 Internment experiences of Americans and Canadians of Japanese heritage in the Northwest during World War II are documented in this site, which features an exhibit that "tells the story of Seattle's Japanese American community in the spring and summer of 1942 and their four month sojourn at the Puyallup Assembly Center known as 'Camp Harmony.'" The internment camp section furnishes nearly 150 primary documents--including 12 issues of the "Camp Harmony Newsletter," 16 government documents, ten letters, 39 photographs, 24 drawings, a scrapbook, 20 newspaper clippings, and a 7,500-word chapter from the book Nisei Daughter that describes camp life. The site also provides archival guides and inventories for 21 University of Washington Library manuscript holdings relating to the internment and for 21 related collections; a 46-title bibliography for further reading; and additional information and documents related to Japanese Canadian internment. Valuable for those studying the wartime experiences and culture of interned Japanese Americans.