At a Glance
Description
James Bond, anyone? Delve into the States' history of espionage.
Producer
Jeffrey T. Richelson, Editor
National Security Archives: The Pentagon's Spies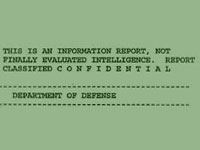 Provides more than 20 declassified Department of Defense documents from 1965-1995 on the history of a variety of "human intelligence" operations performed in recent times by Army, Navy, and Air Force units. The documents contain organizational histories of these units and operations, and offer information on espionage activities relating to events in Latin America, Afghanistan, the Middle East, Cuba, Panama, China, and Bosnia. Includes a 500-word introduction and four-title bibliography. The site offers a revealing glimpse into U.S. military espionage activities and will be of interest to students of political history, public policy, and international affairs.