At a Glance
Description
A collection of American and European literary classics, made available free of charge.
Website
Producer
Steven H. van Leeuwen, Publisher
Bartleby, Great Books Online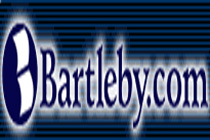 This well-organized and useful site provides full-text versions of over 200 classic American and European literary works, as well as reference materials for scholarly use and readers' enjoyment. The site is divided into four sections. The Reference category includes 27 reference works, from dictionaries to Gray's Anatomy. The Verse section offers over 60 collections from poets like William Butler Yeats and Walt Whitman. The Fiction category provides over 75 works from authors like Leo Tolstoy, Agatha Christie, and Charles Dickens. And the Nonfiction section includes over 30 works from figures such as 18th century women's rights activist Mary Wollstonecraft, writings by Theodore Roosevelt, and Thomas Paine's Common Sense. The site is remarkably easy to navigate and provides keyword author/subject/title/phrase indices for searching among works. The individual works are also searchable by index and table of contents. This site is ideal for researching the lives and works of many prominent literary figures.