At a Glance
Description
From scientific findings to speeches, 100 documents represent each year since 1972.
Producer
Congressional Quarterly Press
CQ Historic Documents Series: Online Edition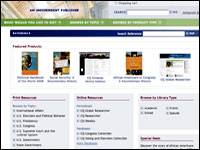 Each year since 1972, CQ Press has published a book of 100 significant documents in U.S. history accompanied by detailed annotations. The entire collection is available on this website, allowing for detailed keyword searching. Documents include U.S presidential speeches, government and international organization publications, legal decisions, scientific findings, and cultural discussions. The documents are grouped by year and by topic. Topics include the economy, defense, the environment, health care, international affairs, and life in America. A "Favorite Documents" feature allows users to mark and collect documents of interest, and a "CiteNow!" feature provides citations on demand. Though the depth of documents on any one topic is minimal, this website provides an overview of important events in a given year as well as U.S. perception of and response to topics over time.