At a Glance
Description
Explore the experiences of World War II's Women Airforce Service Pilots (WASPs) at this companion website to the PBS American Experience documentary.
Producer
American Experience, PBS
Fly Girls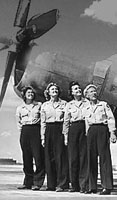 A companion site for a PBS American Experience documentary on the Women Airforce Service Pilots, or WASPs, who flew military support missions during World War II. More than 1,000 women participated in the program, marking the first time women piloted aircraft for the U.S. Army. The site includes 16 documents—including official correspondence, letters, and certificates—and transcripts of interviews with two of the pilots, a historian, and a general. Additionally, it offers a transcript of the complete one-hour broadcast; a 3,430-word excerpt from a book by a WASP test pilot; biographies of approximately 1,200 words each of three WASP pilots and three female pilots from earlier times; two video clips; a 2,100-word introductory essay; and a 1,000-word history of the B-29, a dangerous bomber WASPs flew in order to convince resistant male pilots that the plane was safe.
The site also provides a timeline, a bibliography of 22 titles, and a reference guide for teachers. With its emphasis on the experience of these pilots as women—they suffered ridicule, attacks in the press, and possibly even sabotage to their aircraft, then disbanded in December 1944 when male pilots lobbied for their jobs—the site will be of interest to those studying women's history, in addition to military history.