At a Glance
Description
View the early history of California through this collection of over 30,000 photographs.
Website
Producer
Bancroft Library, University of California, Berkeley
California Heritage Collection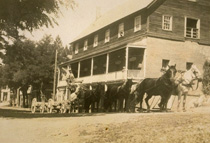 An impressive archive of more than 30,000 digitally reproduced images "illustrating California's history and culture," taken from nearly 200 collections at UC Berkeley's Bancroft Library. The site, searchable by keyword, features photographs, sketches, and paintings in six categories: early California missions and mining activities, natural landscapes, Native Americans, San Francisco, World War II and Japanese relocation, and portraits of notable and ordinary Californians from diverse backgrounds. More than 100 images selected from the larger collection are included in an accompanying California Cornerstones Collection. Includes 158 finding aids, additional links to the Bancroft Library, and six "web-based lesson plans" for using the collection in K-12 classrooms. While the text accompanying each image is limited to artist/photographer, subject, and date, the sheer number of images available makes this a valuable resource for those studying California's history.