At a Glance
Description
Which locations, open for visitation, are most relevant to the civil rights movement?
Producer
National Park Service; Federal Highway Administration
We Shall Overcome: Historic Places of the Civil Rights Movement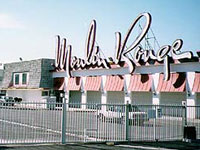 A "National Registry of Historic Places Travel Itinerary" covering 42 places of significance with regard to the postwar African-American civil rights movement. Churches, colleges, private homes, places of business, neighborhoods, and government offices, primarily located in the South, are each described in 300-word entries illustrated with one or two photographs. An introductory 5,000-word essay offers a narrative history of the movement with annotations to specific sites. Focuses on the 1950s and 1960s, with no attempt to cover civil rights struggles of groups other than African Americans. A few sites cover events and persons active prior to the 1950s, such as Ida B. Wells's home in Chicago and the W. E. B. Du Bois Homesite in Great Barrington, MA.
Users can access sites from a map of the U.S. or by a list organized by states. Information for visiting each site is also provided, as is a list of 39 related websites and a 34-title bibliography. The site's creators note that the places were nominated by states and thus "do not represent a systematic effort to survey, identify, and list all important civil rights sites in the National Register." A useful way to introduce students to civil rights history.