At a Glance
Description
Follow the contentious election of 1896 with close to 100 political cartoons related to the presidential campaigns.
Producer
Rebecca Edwards and Sarah DeFeo, Vassar College
1896: The Presidential Campaign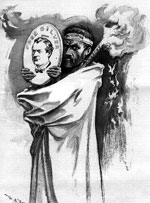 The election of 1896 was one of the most contentious in U.S. history. When Republican William McKinley defeated William Jennings Bryan on November 3rd, there were no fewer than six candidates on the ballot and the country was in the throes of an economic depression. This website provides close to 100 political cartoons surrounding the election campaigns.
The website acts like a virtual web of knowledge, with linked words in almost every sentence leading to helpful chunks of information on key themes, political parties and their leaders, print culture, and popular culture. Together, this information sheds light not only on the political situation in the 1890s, but also on the social, economic, and cultural contexts of the era. Special sections are devoted to, among many other topics, the bicycle craze, antisemitism, popular amusements, the Supreme Court, and women's suffrage. An extensive bibliography and a section devoted to teaching suggestions are also included.