At a Glance
Description
Engage your students in historical thinking with this interactive site on the rebellion led by Daniel Shays.
Producer
Springfield Technical Community College, Springfield Armory, Pocumtuck Valley Memorial Association
Shays' Rebellion and the Making of a Nation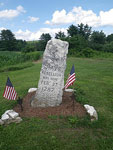 This website is the result of a collaboration among Springfield Technical Community College (STCC), the Springfield Armory, and the Pocumtuck Valley Memorial Association (PVMA). The site provides a narrative of Shays' Rebellion told through images, summaries, and primary sources—a wealth of materials for classroom teachers.
The Shays' Rebellion website is designed to be navigated through a series of six historic scenes. Framed on either end by a prologue and epilogue, the scenes present the perspectives of key groups involved in the run-up to rebellion, as well as its aftermath. In "A Bloody Encounter," for instance, the assault by Shays and his men on the Springfield arsenal is represented in pictures. By rolling a cursor over the image, users can learn more about the scene—the great strength of this approach is that information is contextualized and given greater meaning.
One of the most unique features on the site is that each scene is accompanied by the commentary of eyewitnesses and other figures from the time period. With background knowledge acquired from the scene and brief synopses of events, users are well prepared to understand these commentaries—an excellent use of primary sources.
The site can also be navigated by people, by artifacts and documents, or by themes and essays. Exploring it in any of these ways, however, can be a chaotic experience. The site also includes resources for extension activities like songs and music, a timeline, and a series of historic maps.