At a Glance
Description
Through this collection of business plans and planning information, track the beginning of the "Dot Com Era."
Producer
Library of Congress; Center for History and New Media; University of Maryland Libraries
Business Plan Archive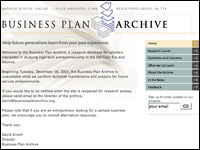 A collection of business plans and planning information, this archive documents the "Birth of the Dot Com Era." Documents can be browsed (free registration required) by alphabetical listing of companies, document type, market sector, or market audience, or the archive can be searched by company name. An advanced search option is also available.
Currently, there are 2,445 companies in the archive with one or more documents and more than 3,400 archived documents. Each company record includes a brief description of the company, historical information on the company (if available), and related documents. "What We Can Learn" offers three articles on the kinds of observations we can extract from the dot com boom and bust. "Research Corner" offers tips on using the archive in the classroom, announcements, and other project news. Of particular interest are the entries on guidelines and recommendations for studying companies and for using the archive.