At a Glance
Description
Social science data offered to member colleges and universities here covers a range of sociological and political areas.
Producer
Institute for Social Research, University of Michigan
Inter-University Consortium for Political and Social Research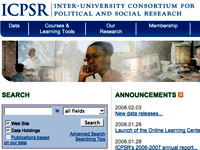 Providing access to social science data for member colleges and universities, this website presents data that covers a range of sociological and political areas. Issues include census enumerations; urban and community studies; conflict, violence, and wars; economic behavior; legal systems; legislative bodies; mass political behavior and attitudes; and organizational behavior.
While much of the site emphasizes the late 20th century, data sets such as "Historical and Contemporary Electoral Processes" and "1790–1960 Censuses" will be useful for historical research. Searching is available according to a controlled vocabulary of names, subjects, and geographical terms. There are 10 special topic archives with data geared to health, education, aging, criminal justice, and substance abuse and mental health concerns. A "data use tutorial" and links to related sites may be useful.