At a Glance
Description
What do Vegas showgirls have to say about their time in the city?
Producer
University of Nevada Las Vegas Libraries
Oral History Research Center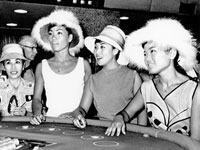 Established in 1905, Las Vegas, NV, officially became a city in 1911. Its growth and development over the course of the 20th century is documented through this diverse collection of oral histories. Eight oral histories, in video, audio, and transcript format, expose aspects of daily life in early Las Vegas from the 1930s to the 1960s. Las Vegas showgirls Anna Bailey, Carol Baker, Betty Bunch, Sook-ja, Ai-ja, Mia Kim, and Virginia James discuss working conditions on the Las Vegas strip in the 1960s and 70s as well as their involvement with prominent shows, the racial integration of showrooms, and the growth of the Las Vegas Korean community. Present-day Las Vegas comes to life through oral histories and videos of six women in their 70s and 80s who tap dance together several times a week at the West Las Vegas Arts Center. Segregation, integration, the Nevada Test Site, and local history in Las Vegas are the focus of the oral history roundtable with Rose Hamilton and four other women who grew up together in Las Vegas and remain friends to this day.