At a Glance
Description
What role did Virginia play in defining the U.S. and upholding rights we now consider basic and essential?
Website
Producer
Library of Virginia
Shaping the Constitution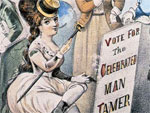 Shaping the Constitution revolves around the role of Virginia in early American military and political history.
The first section, Becoming Free and Independent States, offers an overview of the perspectives of early Virginians on the Revolutionary War. The page includes biographies of figures of note, ranging from George Washington to Billy, a slave impressed by the British Navy. Each biography offers titles and/or web links for further reading. The main draw of the section, though, is a collection of 32 primary sources—broadsides, portraits, maps, warrants, petitions, a cartoon, and more. Each primary source can be selected for additional information, a transcript, related sources, and/or a high-resolution copy of the source. One surprise worth noting is that selecting the high-res copy of the source sometimes provides a PDF file with multiple related sources, rather than just the one you may have thought you were downloading.
Each of the following sections follow a similar structure—biographies, primary sources, and a short text overview. Topics include Virginia and the Constitutional debate; Bill of Rights; and 13th, 14th, 15th, and 19th Amendments.
An additional feature, located within the majority of the individual sections is a "For Educators" button. This button opens a list of lesson plans and their respective Virginia standards. Only the 15th and 19th Amendment portions of the site lack this option.
A laudable fact about this website is that it provides unpleasant sources (such as a photo of an Alexandria slave pen) as well as copies of major government documents. These sources are useful for showing precisely what facts of historical life various political decisions and amendments were created to change.