At a Glance
Description
Chapman spent more than 20 years painting Civil War Charleston after his stint in the Confederate Army.
Producer
Museum of the Confederacy
Conrad W. Chapman: A Confederate Soldier's Paintings of the Defense of Charleston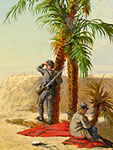 This Museum of the Confederacy website offers access to 31 paintings created during the Civil War by a Confederate soldier.
The simplest way to navigate the site is to click the "next" arrows located at the bottom right of each page. This will flip to the next "page," causing the website to read like a book. The exhibit is not overly long or text heavy, so this is a pleasant way to approach the material. The first page introduces you to Conrad Chapman and his father John, U.S.-born artists who largely lived in Europe. Conrad traveled to the U.S. in 1861 to join the Confederate Army. As a soldier he was ordered to sketch the defenses of Charleston, SC. These sketches became the basis for the 31 oil paintings which constitute the majority of the exhibit. Chapman and his father both painted scenes based on Conrad's sketches for 25 years.
Additional pages include a map of Charleston's defenses; a small amount of information on General P. G. T. Beauregard, Chapman's commanding officer; and images of the paintings accompanied by commentary by Chapman himself.
Note that prior to viewing the paintings, the website will have a page suggesting the purchase of prints. As a result, it may be wise to access the page and select images prior to your classes rather than allow students to navigate on their own.