At a Glance
Description
Teenagers in love? By the author of The Last of the Mohicans?
Producer
Hugh MacDougall, The James Fenimore Cooper Society
James Fenimore Cooper Society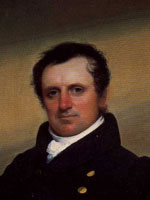 Hard-to-find works by the great American writer James Fenimore Cooper (1789–1851) and his eldest daughter Susan Fenimore Cooper (1813–1894), a writer and naturalist, are provided, in addition to reference documents, articles, and papers on Cooper, all well-indexed. In total, the site provides more than 300 texts. Nine full works by Cooper—annotated by transcriber Hugh MacDougall—are offered, including short stories, a novel, social satires, a surviving scene from Cooper's only play, and a never-completed history of New York. The site includes plot summaries for all of Cooper's 32 novels and four 19th-century spoofs and parodies of Cooper's works.
In addition, Susan Cooper's introductions to 25 of her father's novels are provided along with 12 of her writings, including a novel, stories for children, and an argument against female suffrage. A good source for lesser-known works by Cooper and his daughter, and for recent studies that discuss Cooper's historical significance.