At a Glance
Description
Listen as traders talk about their experiences at Native American trading posts.
Producer
Northern Arizona University, Cline Library Special Collections and Archives Department
Traders: Voices from the Trading Post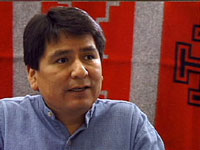 Trading posts, small businesses that sold American Indian arts and crafts, were a colorful part of the culture of the American West. When the United Indian Traders Association (UITA), an organization of trading post owners and operators, disbanded in 1997, they directed some of their financial reserves toward this oral history project, capturing the history of these posts through the reminiscences of traders and their families. The 44 interviews offered on this site were conducted from 1998 to 2000 by Karen Underhill and Brad Cole of Northern Arizona University. Each interview is accompanied by a photograph and a brief (approximately 50 words) biography of the interviewee. The site offers edited excerpts, full-text transcriptions, and selected audio clips of each interview. There is no search engine and the interviews are arranged only by name, not by geographical location, so the site is somewhat difficult to navigate. But for those interested in the recent history of the American West, Native Americans, and the intermediary functions of the trading posts, this is a unique source.