At a Glance
Description
How did the lumber, flour, sawmill, and farming industries shape Minnesota's future?
Website
Producer
Minnesota Historical Society
Forests, Fields, and the Falls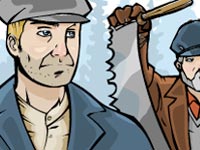 This site illustrates the ways in which the late 19th-century history of Minnesota is tied to the rise of and connection between four industries: lumbering, sawmilling, farming, and flour milling. The site uses a comic book-like format (large picture panels with minimal text), and incorporates the diaries and personal recollections of four Minnesotans who participated as lumbermen, sawyers, farmers, or flour millers. The colorful format attracts attention and the short presentations are appropriate for younger viewers (elementary, middle, and even high school students). The site relies primarily on Flash to present the stories, but viewers can also read and view the stories in HTML.
Each segment provides links to outside resources (about 40 in all) for additional information. Explanatory links define terms that might be unfamiliar to visitors, suggest topics for discussion, and offer additional supporting materials (for example, the site links internally to approximately 50 period photographs and diary entries). Teachers may find useful the nine suggestions for classroom activities, such as analyzing photographic evidence or examining the perspective of one of the storytellers.