At a Glance
Description
Ansel Adams's photographs preserve life at the Manzanar War Relocation Center during World War II.
Producer
American Memory, Library of Congress
Ansel Adams's Photographs of Japanese-American Internment at Manzanar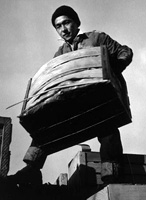 During World War II, the U.S. Government forced more than 100,000 Japanese Americans to leave their homes and businesses, relocating them to internment camps from California to Arkansas. Well-known photographer Ansel Adams documented the lives of Japanese Americans at the Manzanar War Relocation Center in California—from portraits to daily life, including agriculture and leisure.
This site presents 242 original negatives and 209 photographic prints, often displayed together to show Adams's developing and cropping techniques. His 1944 book on Manzanar, Born Free and Equal is also reproduced. Adams donated the collection to the Library of Congress in 1965, writing, "The purpose of my work was to show how these people, suffering under a great injustice . . . had overcome the sense of defeat and dispair [sic] by building for themselves a vital community in an arid (but magnificent) environment."