At a Glance
Description
Learn about life in the Big Coal River Valley in West Virginia.
Producer
American Memory, Library of Congress
Tending the Commons: Folklife and Landscape in Southern West Virginia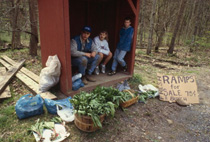 This site incorporates 679 excerpts from original sound recordings and more than 1200 photographs from the Library of Congress American Folklife Center's Coal River Folklife Project (1992-1999). These materials document traditional uses of mountains in southern West Virginia's Big Coal River Valley as common land for hunting, gardening, mining, and timbering. It includes interviews on native forest species, traditional harvesting, storytelling, river baptisms, and other special occasions celebrated in the valley's commons. Forty brief (approximately 500-word) interpretive texts outline the social, historical, economic, and cultural contexts of community life in the valley; eight maps and more than 150 photographs illustrate these community activities. Captions (roughly 25-word) describe the more than 1200 images contained on the site, which is keyword searchable and browsable by subject, geographic location, photograph title, and audio title. This site would be of interest to those researching rural American life and folkways.