At a Glance
Description
Nine galleries explore the history of slavery in New York City.
Website
Producer
New-York Historical Society
Slavery in New York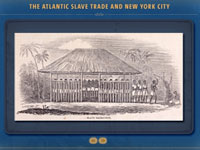 Focusing on the experiences of Africans and African Americans in New York City, this collection presents nine galleries that explore various themes and time periods in the history of slavery. These include the Atlantic slave trade; slavery in Dutch New York; the growth of slavery in British Colonial New York; freedom for blacks during the Revolutionary War; the Gradual Emancipation Act of 1799; free blacks in public life; Emancipation Day (July 4, 1827), and the history of scholarship on slavery in New York City. Each gallery has three panels: a gallery overview, a main thematic presentation, and one focusing on people, places, and documents. Of special interest are two interactive maps with timelines in the Dutch New York gallery and the Revolutionary War gallery; a picture gallery on the portrayal of blacks in New York City's public life; and profiles of nine African Americans who lived in New York City during the early republic.