At a Glance
Description
Looking for a primary source website created especially for elementary teachers?
Website
Producer
New York State Archives
Throughout the Ages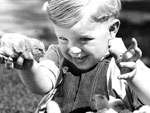 Throughout the Ages was created to meet the primary source needs of New York state K-6 history teachers. The site collection includes more than 500 photographs, letters, paintings, advertisements, and maps.
To navigate the site, choose an area of interest and subtopic (for example "leisure" under the heading "community"), and scroll to a source of interest. The source will offer a caption. In some cases, historical context, focus questions, and the correlating New York state standards will also be listed. Be sure to click on each of these section titles, as items such as resources and historical background only display once selected.
One feature to look into is the automatic handout maker. For each image, you can automatically generate a handout by selecting any or all of the following categories: caption, historical background, standards/key ideas, historical challenge, interdisciplinary connections, and resources. For some images, these will already be filled out. For others, you can type anything you want for all, some, or one of those categories. Don't worry about deleting existing text if you don't want it on your handout. It will be back the next time you load your page.