At a Glance
Description
Explore the planned community of Reston, VA. Gain a better sense of the town that has become a burgeoning suburb.
Website
Producer
Planned Community Archives, Inc., George Mason University
Reston Collection Images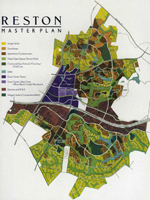 This collection of more than 160 texts, maps, photographs, and sketches is focused on the people, themes, and organizations important to Reston's history as a planned community. Textual materials include deeds, certificates, promotional brochures, studies, reports, and correspondence. Maps include Reston's Master Plan, major road systems, educational facilities, and recreational areas. Photographs include Lake Anne, various physical structures, and people significant to Reston's history. Sketches are mostly of building and community plans. Subject areas include health care, education, public services, parks, recreation, transportation, and population.
The collection can be browsed by title, subject, people, or organization and it can also be searched by subject, personal name, corporate name, or title. This is a website of interest to those researching the history of Reston or of planned communities.