At a Glance
Description
More than 15,800 rare historical maps focus on North and South America.
Website
Producer
David Rumsey, Cartography Associates
David Rumsey Map Collection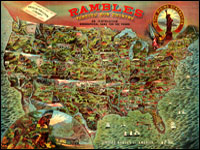 This private collection presents more than 15,800 rare historical maps with a focus on North and South America. The collection is accessible via several formats. A standard browser (the "directory") is designed for use by the general public. In addition to two browsers and a "collections ticker" requiring Insight software (available for free download), a GIS browser shows detailed overlays of maps and geospatial data for the more serious researcher.
Many of the U.S. maps are from the late 19th and early 20th centuries and are often notable for their craftsmanship. Materials include atlases, globes, books, maritime charts, pocket and wall maps, and children's maps. Users can zoom in to view details. Overlay capabilities make this site valuable for its ability to convey how locations have changed over time.