At a Glance
Description
Support visual learners with a selection of more than 30,000 historical images.
Producer
New York Public Library
New York Public Library Picture Collection Online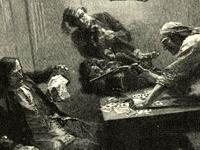 This image resource site contains 30,000 digitized images from books and periodicals, as well as original photographs, prints, and postcards, mostly dated before 1923. There are cartoons and illustrations from the well known Harper's Weekly and Century Magazine, as well as images from the Library of Congress Prints and Photograph division. In addition many of the vibrant images of Native Americans were collected from the Department of War Indian Gallery. Covering more than 12,000 subjects, the site features images of Jamestown settlers, Pocahontas and John Smith, American presidents, 19th-century New York architecture, slave life, American and European women's costumes, streetcars and trains, and even insects and snakes.
Bibliographical information accompanies each image, and users may also save images of interest in their own "gallery" for viewing or purchase. Thumbnail sketches enlarge for full-page viewing. Searchable by keyword or by browsing a variety of indexes, the collection is a useful visual resource for teachers and researchers.