At a Glance
Description
Explore the history of Maryland, from Edgar Allen Poe to the War of 1812.
Website
Producer
Maryland Digital Cultural Heritage
Maryland Digital Cultural Heritage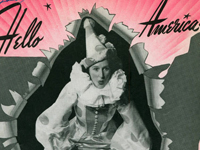 The cultural heritage of Maryland is readily accessible here through thousands of digitized documents, maps, and images arranged into more than 40 collections and two exhibits. Baltimore's native son and prominent early 20th-century journalist H.L. Mencken is featured through a collection of 19 portraits, artifacts, and letters. Edgar Allen Poe, who lived in Baltimore late in his life, can be glimpsed through 18 portraits, drafts, and letters. Another collection offers digital copies of primary sources from the War of 1812, including an original draft of the "The Star-Spangled Banner."
Other collections include photographs of African American life, a selection of sports-related items, photographs and watercolor paintings of old houses and churches in Queen Anne's County, vintage photographs of Baltimore streets and street cars, and a series of photographs awaiting identification from collection users. Ample historical context, including library donation information, is provided for all collections. The website's blog will be useful for those interested in library sciences, preservation, and digital archiving.