At a Glance
Description
A keyword-searchable archive containing over 2,000 of Abraham Lincoln's papers.
Producer
American Memory, Library of Congress and Lincoln Studies Center, Knox College
Mr. Lincoln's Virtual Library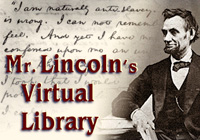 Part of the Library of Congress American Memory site, this online archive draws from two Library of Congress collections on the life of Abraham Lincoln, the 16th president of the United States. The Abraham Lincoln Papers in the Library's Manuscript Division contain over 20,000 items, over 2000 of which are contained on this site. Items include correspondence, speeches, and reports accumulated primarily during Lincoln's presidency (1860-1865). The documents are accompanied by annotated descriptions (roughly 150 words) composed by the Lincoln Studies Center at Knox College. The papers are in chronological order and are keyword searchable. The second collection highlighted in this exhibit is "We'll Sing to Abe Our Song," over 200 sheet music compositions that represent the popular music of the Civil War era. These pieces are drawn from the Alfred Whital Stern Collection in the Library's Rare Book and Special Collection division. The sheet music is searchable by title, composer, and subject. The site also offers links to other Library of Congress sources on Lincoln, including a photograph gallery of 16 images of the Lincoln family and other political figures of the Civil War era; over 50 Civil War maps; and a link to lesson plans for the entire American Memory Collection, including eight Civil War lesson plans appropriate for elementary and secondary students. This site is ideal for researching Lincoln's presidency and popular culture of the Civil War era.