At a Glance
Description
Roughly 200 National Park Service locations preserve locations designated important to U.S. history and prehistory; explore their resources online here.
Website
Producer
National Park Service
National Park Service: Links to the Past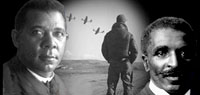 Visitors to this site are invited to explore historical aspects of the roughly 200 National Park Service locations designated important to U.S. history and prehistory. Materials are organized by "cultural resource subjects," including archeology, architecture and engineers, cultural groups, cultural landscapes, historic buildings, mapping, maritime and military history, and "cultural resource programs," such as the American Indian Liaison Program and Heritage Preservation Services.
Visitors can search for information on more than 2.5 million Civil War soldiers and sailors; more than 71,000 properties listed in the National Register of Historic Places; and approximately 240,000 reports on federal archaeological projects in the National Archaeological Database. National Register Travel Itineraries provide historic guides to 18 cities and communities. The National Underground Railroad Network to Freedom contains information on 51 sites of importance and on slavery and antislavery efforts.
Also of interest are bibliographies on the African American west and public history, and full-text publications on the Antiquities Act of 1906 and the promotion of the city of Seattle during the gold rush era. The homepage—"History and Culture"—presents several topical, comprehensive historical exhibits including the "Eisenhower Virtual Museum."