At a Glance
Description
Visualize the Civil War through the photographs selected by Alexander Gardner in 1865.
Producer
Cornell University Library, Rare and Manuscript Collections
Gardner's Photographic Sketch Book of the War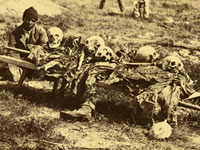 This site presents the original photographic prints in Alexander Gardner's Photographic Sketch Book of the War. First published in 1865, the Sketch Book was Cornell University Library's seven-millionth acquisition, and they have presented in this site the very best of Gardner's wartime photographs. The book was created by Gardner to recount the history of the Civil War through images and they are displayed in this site with his original descriptive captions. Organized into seven compelling themes, many of the images capture the gruesome reality of war. They include President Lincoln, confederate prisoners, army quarters, soldiers collecting skeletal remains, and a photograph of a dead sharpshooter.
The first section, "The Blank Horror: War and its Victims," consist of seven images, some captured in the immediate aftermath of battle. "Devastated by the Armies: The Changed Landscape" reveals the impact of war on the American landscape, while "Faithful Servants: the Administration of War" shows the government officials behind the war, such as scouts attached to the Secret Service Department of the Army. The monotonous aspects of soldiers' lives are depicted in "The Very Life of Camp" and images within "Advantageous Auxiliaries: Warfare & Technology" focus on how new technologies, such as the telegraph, had an extraordinary impact on warfare during the Civil War. The final sections "To the Memory of the Patriots" and "Gettysburg" are exemplary of the important role Gardener believed he and his colleagues played in recounting the history of the Civil War. Although there is little attempt to interpret the images, those studying the Civil War will find these images striking.