Everyday Life in the 19th Century
Question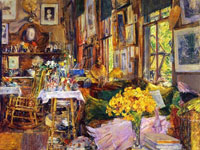 Can you give me some historical background information on the 1800s? I researched some online, and it's not getting to me. I wish to know about transportation, education, medicine, and just how people in the U.S. lived during those times (specifically after the Civil War). Can you help me get the feel of that century?
Answer
This is a potentially endless project and only you can know when you have "got it," as you say.
Here's one short way to start: Go offline and walk into a library. Find and read Joel Shrock, The Gilded Age (Westport, CT: Greenwood Publishing Group, 2004) and Sean Dennis Cashman, America in the Gilded Age: From the Death of Lincoln to the Rise of Theodore Roosevelt (New York: NYU Press, 1993).
Then, you might try just wading into the time, as if it were your ancestor's attic, packed full of stuff. There are many doors to that attic, but where you start and how you sort through all the stuff that's there is up to you.
Visit museums and antique stores. Feel the heft and sturdy mechanism of an old ice cream scoop, or the density and weave of the cloth in a wool suit from the time, clothing fasteners before zippers came into wide use, the size and workmanship of a lady's patent leather boot, the ingenious variety of safety equipment in a coal mine, pots for making soap at home, carriage fittings, or the lamps that were used in a Pullman sleeping car. Find collections of paintings and drawings from the time and study, for example, how Winslow Homer or Childe Hassan detailed the interiors of rooms, or the clothes of people from different social groups.
If you wish to go further, there are ways to do it back online.
Newspapers and Magazines
Dip into the daily newspapers of the time, reading them as if they were telling you about today's news. Most academic libraries and many public libraries subscribe to databases that let you do this. ProQuest, for example, has an online collection, Historical Newspapers, that includes many newspapers from this period, such as The New York Times, The Chicago Tribune, The Chicago Defender, The Los Angeles Times, The Boston Globe, The Washington Post, and The Atlanta Constitution. Gale also has a very large collection, Nineteenth Century US Newspapers. Ancestry.com also has a nice collection of 19th-century newspapers online that are available to subscribers.
If you can't find a local library that subscribes to these, you could try settling into reading The Brooklyn Daily Eagle from that time, which the Brooklyn Public Library has digitized and made available online, free to all. The Daily Eagle, however, was not published on Sundays, so it lacks the feature sections that other papers published. The Sunday supplements are particularly valuable for opening a window on to the domestic life of the time, including clothing fashions, food preparation, social and business conventions, advertising, children's play, art, music, theater, and more. The Library of Congress also links to a substantial and open collection of newspapers, Chronicling America: Historic American Newspapers.
You can also browse through magazines and periodicals from the time online for free. The Making of America (Cornell) site has plenty of these, such as The Atlantic Monthly, Harper's New Monthly Magazine, The North American Review, Scribner's, Putnam's, and Scientific American. Academic and public libraries often subscribe to ProQuest's American Periodicals Series, which contains many more, including such titles as Godey's Lady's Book and The Prairie Farmer.
Photographs
The Prints and Photographs Collection of the Library of Congress has many scanned images online. Some of these are organized thematically in the American Memory section, accessible from the Library's main web page. The New York Public Library also has a very large collection of online images, and some of these have also been organized thematically, such as those in its gallery of "Streetscape and Townscape of Metropolitan New York City, 1860-1920."
Online images available from libraries, museums, and archives are increasing exponentially. Here are a few collections, chosen almost at random, that contain many photographs from the second half of the 19th century:
The National Archives' Photographs of the American West: 1861-1912.
The Denver Public Library's online archive of Western History.
The New York Public Library's Images of African Americans from the 19th Century.
The University of Montana Library's online image database of Indian Peoples of the Northern Great Plains.
Photographs in the Harvard University Library's Open Collections Program, Women Working, 1800-1930 and Immigration to the United States.
The Wisconsin Historical Society's online archive of Wisconsin Historical Images.
Examples of collections covering other aspects of popular and material culture from the last half of the 19th century available online:
Music
Duke University Library's Historic American Sheet Music.
The Library of Congress' African-American Sheet Music, 1850-1920.
UC Santa Barbara Library's Cylinder Preservation and Digitization Project.
Advertising
HarpWeek 19th Century Advertising.
Duke University Library's Emergence of Advertising in America.
Domestic Life
Cornell University Library's Hearth/Home Economics Archive.
Michigan State University Library's Feeding America: The Historic American Cookbook Project.
The Library of Congress's Home Sweet Home: Life in Nineteenth-Century Ohio.
What People in the Last Half of the 19th Century Read
Links to Gilded Age Documents.
Pat Pflieger's Nineteenth-Century American Children & What They Read.
Stanford University Library's Dime Novel and Story Paper Collection.
Memoirs, Diaries, and Journals
University of North Carolina Library's First-Person Narratives of the American South, 1860-1920.
Library of Congress's California as I Saw It: First-Person Narratives of California's Early Years, 1849-1900.
Smithsonian Institution's National Anthropological Archives' Camping With the Sioux: Fieldwork Diary of Alice Cunningham Fletcher [1881].
These websites are just samples of what is now available online. If you become interested in some byway of 19th century life, for example, you can most likely find entire books on that subject, whatever it is, published at the time, via Google Books, Project Gutenberg, Open Library, or The Making of America (Michigan). The online attic now is huge and contains far more than anyone could look at.
Good hunting.
Bibliography
Images:
Winslow Homer, "The New Novel," 1877. The Art Institute of Chicago.
Childe Hassam, detail from "The Room of Flowers," 1894.