At a Glance
Description
Looking for a one-stop spot for all your quick 1639-1800 research needs?
Website
Producer
Readex, NewsBank, Inc.
Early American Imprints, Series I: Evans, 1639-1800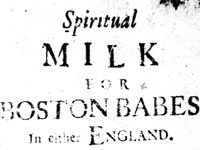 This subscription-only website presents an extensive archive of U.S. history documents, offering more than 36,000 items and 2.3 million pages on all aspects of 17th- and 18th-century American life. It is comprised of a range of publications helpful for researching social, cultural, intellectual, and religious history, as well as political and military history, including advertisements, almanacs, bibles, charters and by-laws, cookbooks, maps, narratives, novels, plays, poems, sermons, songs, textbooks, and travelogues. It is especially useful for the history of printing, as it contains an exhaustive list of printers, booksellers, and publishers active in this time period as well as images and the full-text of most of the books, pamphlets, and broadsides they helped create.
Users can browse the imprints by category: Genre, Subjects, Author, History of Printing, Place of Publication, and Language. Simple and advanced searches are available, enabling easy access into this large collection of documents. For those with access, this site provides an extensive resource for researching all aspects of 17th- and 18th-century North America.