At a Glance
Description
Studying the American Revolution? How about walking Boston's Freedom Trail? You don't have to live near Boston to take this virtual tour.
Website
Producer
Freedom Trail Foundation
Freedom Trail Foundation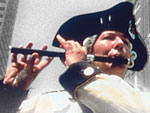 Dedicated in 1958 and now host to thousands of tourists annually, Boston's Freedom Trail links together 16 historic sites from the Revolutionary War era on a 2.5-mile red brick walking trail. This website provides a virtual tour of these sites and other resources devoted to visiting and teaching about the Freedom Trail.
Users may want to begin by downloading the detailed map of the Freedom Trail, and then, with that in hand, visiting the website's "Visit the Freedom Trail" section, which provides images and descriptions of the Trail's 16 sites, including the Boston Common, King's Chapel, Old South Meeting House, and the Old North Church, the oldest standing church building in Boston, and where church sexton Robert Newman hung two lanterns on April 18, 1775, to signal the advance of the British up the Charles River. Additional biographical information is provided for 30 18th-century citizens from all walks of life affected by the events of the Revolutionary War in Boston.
Educators may be interested in the website's teaching materials, including articles on teaching aspects of the Revolutionary era, as well as information on visiting the Trail with students and booking in-school history education programs geared towards students in the upper elementary grades.