At a Glance
Description
Navigate a virtual exhibit of a 1991 archaeological undertaking.
Website
Producer
Rebecca Yamin, Government Services Administration
The Five Points Site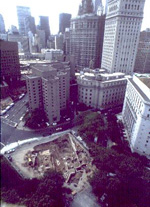 A virtual exhibit of a 1991 archaeological undertaking at the Foley Square Courthouse block in Lower Manhattan of the 19th-century "Five Points" area, a working-class and immigrant neighborhood infamously regarded in contemporary accounts as a "center of vice and debauchery." The site offers information on excavations of a tannery, bakery, saloon, and oyster house, as well as residences in the neighborhood--including Irish, German, Jewish, and Italian residents at various times--and makes an argument that journalistic descriptions of the period failed to adequately represent the "hard work and industry" that material culture evidence suggests. Includes eight images of the excavation sites and more than 60 photos of artifacts. The site also provides five maps, six contemporary images of the neighborhood, and a list of five recommended readings and 13 links to other websites on archaeology and history. Valuable for those studying 19th-century urban life and as a demonstration of ways that archaeology can provide a window on everyday life of earlier eras.