At a Glance
Description
View documents relating to the drafting of the Declaration of Independence.
Producer
Library of Congress
Drafting the Documents of Independence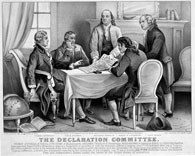 Eight documents and prints relating to the Declaration of Independence are presented, including a June 1826 letter from Thomas Jefferson to Roger C. Weightman. Other documents include a fragment of the "earliest known draft of the Declaration of Independence"; Thomas Jefferson's "'original Rough draught'" of the Declaration with later changes made by John Adams, Benjamin Franklin, and others; a portion of George Washington's copy of the "'Dunlap Broadside'" of the Declaration, read to his troops in New York on July 9, 1776; and a print showing Washington's troops reacting to the reading by destroying a statue of King George III.
The site also offers a 500-word background essay and a chronology of events from June 7, 1776, to January 18, 1777. The website is well-organized to present evidence of the Declaration's development and effect.