At a Glance
Description
A comprehensive history of religion and major religious events within the United States.
Producer
National Humanities Center
Divining America: Religion and the National Culture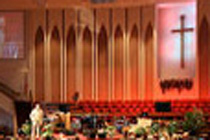 This site, part of the larger TeacherServe offers an interactive curriculum enrichment service providing teachers with creative lesson plans and access to materials for the secondary school classroom. To help teachers convey the importance of religion in the development of the United States, this site highlights the intersections between American history and religion at key points like the Puritan migration to New England, abolition, and the Civil Rights Movement. The site offers essays on 24 topics grouped into 17th- and 18th- century, 19th- century, and 20th-century categories. Subjects covered include Native American religion in Early America, witchcraft in Salem village, African American religion in the 19th century, the Scopes trial, and the American Jewish experience.
Each of the 2,000-word essays includes background to the topic, tips on guiding student discussion, a bibliography of approximately five related scholarly works, a discussion of historians' debates over the issue, and links to related resources. Teachers can submit questions and comments on teaching about religion in the classroom to the Center and its consulting scholars, and a discussion link posts these questions and answers. The site also offers links to three websites that offer additional advice on teaching about religion in public schools. This is an excellent site for high school history teachers and it also provides a useful framework for college survey courses.