At a Glance
Description
Read FBI files on and watch interviews about Malcolm X, human and African American rights activist.
Website
Producer
Columbia University, Center for Contemporary Black History
The Malcolm X Project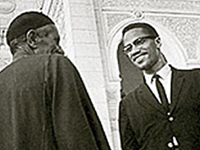 This site is dedicated to the study of the life and legacy of Malcolm X. Only one of three "initiatives" is publicly available (Columbia faculty, staff, and students may also access the site's "multi-media study environment" section). "Oral histories," "outreach," and "Malcolm X biography project" are under construction. A chronology traces Malcolm's life from his birth in May 1925 to his assassination in February 1965, with short entries on major events. "Government Documents" offers FBI files on Malcolm X—4,000 pages of surveillance reports—covering the period 1954 to 1964. A brief summary accompanies each report and the files can be searched by keyword. The site's project journal, focusing on particular themes and issues, has seven articles on Malcolm X and eight weblog postings. Additionally, the site offers an e-seminar "Life after Death: Malcolm X and American Culture" by Columbia professor Dr. Manning Marble for a fee (available free to Columbia faculty, staff, and students). When this site is completed, it will be a good starting point for researching the ideas and life of Malcolm X.