At a Glance
Description
Peruse articles, images, and advertisements drawn from 14 Missouri newspapers, 1835 through 1988.
Producer
Institute of Museum and Library Services
Historic Missouri Newspaper Project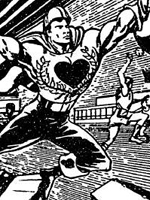 This website provides a searchable archive of 14 historic Missouri newspapers. The newspapers available are The Columbia Missourian (1929, 1966-1985), Palladium (April 1907), the The Missouri Republican (July 1865), the St. Louis Christian Advicate (1857-1858, 1860, 1866-1870, 1874-1879), the St. Louis Globe Democrat (1875), the Daily Evening Herald (1835), The Far West (1836), the Liberty Weekly Tribune (1846-1848, 1850-1883), The Liberty Banner (March 1844, one issue), The Phelps County New Era (1875-1880), The Rolla Express (1860-1863, 1865, 1868, 1872-1873), The Rolla New era (1880-1897), the M.S.U. Independent (1894-1905), and The Hannibal Courier (October 1935; January and August 1988).
For many of the newspapers only several months of the years indicated are available. The full text of all available newspaper issues is searchable, and a range of keyword search options are offered. The user can search an individual publication or all newspapers in the archive. All content can be searched or the user can limit the search to articles, pictures, or advertisements. Newspapers are displayed by page and a rollover feature highlights individual articles that can then be read in a separate window. This archive is a useful resource for those researching the history of Missouri in the mid-to-late 19th and early 20th centuries.