At a Glance
Description
What better way to explore Johnson's presidency than through the words of his associates?
Website
Producer
Scripps Library, Miller Center of Public Affairs
LBJ Oral History Project Online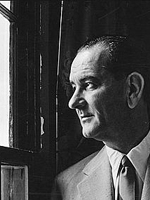 This oral history archives offers more than 1,150 transcripts of interviews about Lyndon Baines Johnson, his political career, and his presidency with more than 780 political associates, persons who served in Johnson's administration, family members, and figures in public life from the 1950s and 1960s. Interviewees from the administration include William Bundy, Ramsey Clark, Clark Clifford, Robert McNamara, Walt Rostow, Dean Rusk, Maxwell Taylor, and William Westmoreland. Interviews with politicians include Senators Dirksen, Goldwater, McGovern, Inouye, Proxmire, Stennis, and Tower. Other interviews include evangelist Billy Graham, writer David Halberstam, U.S. Supreme Court Justice Thurgood Marshall, Chief Justice Earl Warren, and NAACP executive director Roy Wilkins. Interview subjects range from Vietnam, political events, and civil rights to Johnson's place in history and the experience of working in the Johnson administration. Searching is limited to individual transcripts using Adobe Acrobat "binocular" button, but the archive can be browsed fairly quickly.