At a Glance
Description
Browse more than 8,000 objects related to Chinese immigrant life in California.
Website
Producer
American Memory, Library of Congress; University of California, Berkeley; and California Historical Society
Chinese in California, 1850-1925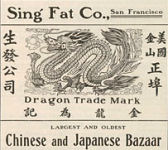 These 8,000 items document the immigrant experience of Chinese who settled in California during the 19th and early 20th centuries. Materials include photographs, letters, diaries, speeches, business records, legal documents, pamphlets, sheet music, cartoons, and artwork.
Access is provided through nine galleries, each containing an introductory essay and 70 to 575 items. Four galleries present materials on San Francisco's Chinatown, including architectural space, business and politics, community life, and appeal to outsiders. Additional galleries deal with Chinese involvement in U.S. expansion westward; communities outside San Francisco; agricultural, fishing and related industries; the anti-Chinese movement and Chinese exclusion; and sentiments concerning the Chinese. Visitors may search by keyword, name, subject, title, group, and theme. The site will be useful for studying ethnic history, labor history, and the history of the West as well as Chinese-American history.